May 14, 2020
How to Develop your Mindset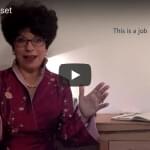 Developing the right mind-set is critical for being successful as a Business Leader and/or Business Entrepreneur.
Thinking about mind-set raises two key questions:
(1) what kind of business do you have and
(2) how do you build a long term business.
So turn that around and consider: what type of business do you have and how do you develop the mind-set you need to succeed?
Watch our video below where Cora Lynn Heimer Rathbone talks through the three types of mind-sets a business owner can have to identify how you can develop your mind-set, yourself and your business.