Improve Business Efficiency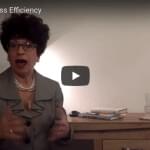 Underperforming companies need to urgently review and address their cost structure which is often not aligned to the sales levels in the business.
Expanding companies need to constantly pay attention to their cost efficiency to avoid unnecessary costs, unproductive activities and the build-up of resources in corners of business.
How do you improve the cost efficiency of your business?
Watch our video below where Cora Lynn Heimer Rathbone talks through some examples of how you can be more efficient to improve your profitability.
For a no obligation chat about how Rathbone Results can help you unlock the potential in your business, contact us