How to re-energise your business strategy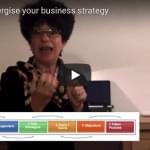 We all know that knowing what we want to achieve and how we want to achieve it is critical to success.
So how do we define our ambition in a way that captures the big-picture as well as the detail, that inspires and engages key players and increases ownership and commitment to make it happen?
Watch this video where one of our Partners briefly walks you through our 6-step team process that is fast and agile, yet thorough, and brings it to life through a client case study.
For a no obligation chat about how Rathbone Results can help you unlock the potential in your business, contact us.